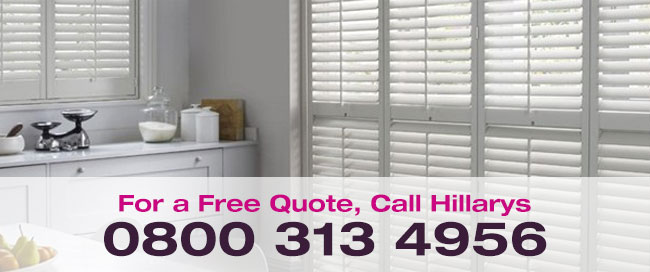 Shutters For Local Homes In The East Dulwich Area
We have been proudly supplying interior wooden shutters to local homes in the East Dulwich area for over 2 decades. During this time, Window shutters Direct have expertly measured and installed in thousands of local homes in the East Dulwich area. Our surveyors and fitters have been described as 'professional from the outset and extremely knowledgeable' as well as 'expert tradesmen and so helpful'. On the topic of our gorgeous products, delighted customers have told us 'we can't stop looking at them and testing out different tilts' and 'the quality is inspiring… they are a pleasure to operate'. Viewed by many as a chic alternative to window dressing, it should come as no surprise to learn that wooden shutters can add value to your home in exactly the same way that a major home improvement such a new kitchen or bathroom does but with virtually no fuss.
Browse Full Hillarys Range
Arrange Free Home Survey
Inspiring Collection Of Interior Shutters
Behind our inspiring collection of hardwood and craftwood shutters stands a comprehensive service that aims to take you from the enquiry stage through to expert installation in your home. This starts with a free no-obligation home survey in East Dulwich, where you can discuss your tastes and specifications with one of our experienced surveyors who can show you many samples of finish, differing louvre size and working mechanisms. After measuring your windows, we will then be able to provide you with a written quotation. Once your requirements have been finalised, your shutters will be manufactured and fitted by an expert member of the team, enhancing your home with a unique and stylish look.
A Fresh New Approach To Window Dressing
Many homeowners in East Dulwich have grown weary of curtains and blinds complaining that they can be fussy, drab and high-maintenance. In complete contrast internal wooden shutters offer a fresh new approach to window dressing through their simplicity and easy maintenance. Once installed they do not need to come down for cleaning at a high cost to you; just simple light dusting will keep your new investment looking fresh and clean. What's more, they will look great for many years to come thanks to their timeless design. Future makeovers to your room will simply involve a new piece of furniture or array of soft furnishings. It shouldn't come as a surprise to learn that installing interior shutters will add value to your property in the same way that a new kitchen or bathroom will. Whether you are looking to revamp just one room or an entire household, your windows will not only be enhanced from the inside but also the outside; providing the ultimate in curb appeal.
Interior Shutters For Your East Dulwich Home
If you are considering interior shutters for your East Dulwich home then we would love you to contact us. You can either call our free phone number or complete the online home survey request form. One of our experienced local East Dulwich surveyors will be in touch to arrange a home visit at a date and time that is convenient to you. We will measure, offer practical support and prepare a personalised quote on the spot. There is of course no obligation to place an order there and then. Take time to consider the options and many available finishes at a price you can afford. If however you are keen to go ahead, then we can process your order immediately. In the meantime, request a copy of our free colour brochure that showcases our extensive range of wooden plantation shutters.