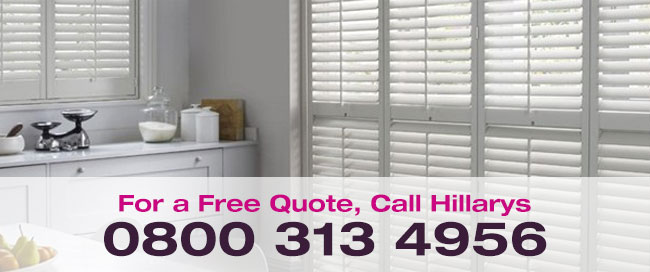 Shutters For Local Homes In The Bermondsey Area
We have been proudly supplying interior wooden shutters to local homes in the Bermondsey area for over 2 decades. During this time, Window shutters Direct have expertly measured and installed in thousands of local homes in the Bermondsey area. Our surveyors and fitters have been described as 'professional from the outset and extremely knowledgeable' as well as 'expert tradesmen and so helpful'. On the topic of our gorgeous products, delighted customers have told us 'we can't stop looking at them and testing out different tilts' and 'the quality is inspiring… they are a pleasure to operate'. Viewed by many as a chic alternative to window dressing, it should come as no surprise to learn that wooden shutters can add value to your home in exactly the same way that a major home improvement such a new kitchen or bathroom does but with virtually no fuss.
Browse Full Hillarys Range
Arrange Free Home Survey
Inspiring Range Of Interior Wooden Shutters
Behind our inspiring range of interior wooden shutters stands a bespoke company that will support you from the enquiry stage right through to expert installation in your home. From the moment you call us on our free-phone number or complete our on-line home survey request, we are here to guide you through the key decision making process in your Bermondsey home. If you are looking for ideas on what look to go for, our surveyor will have a number of high quality shutter samples to demonstrate. Perhaps you would like to see the many different louvre sizes that we manufacture? Or maybe you are interested in hearing more about our unique colour-matching service? Your home survey is the perfect time to ask any questions that you may have. Why not ask for a couple of written quotations so that you may consider both options before placing your order? This is an ideal way to achieve the window dressing of your dreams at a price that you can afford.
Plantation Shutters Give You Maximum Control Over Light And Privacy
Unlike any other window dressing on the market, plantation shutters give you maximum control over light and privacy so you don't have to compromise on either. They do a great job of blocking out extreme noise and temperatures leaving your home peaceful and comfortable on the inside. Whether you are looking to enhance one singular window or your entire property, you can guarantee a timeless elegance that can be styled in a number of ways. Our wooden shutters come in an inspiring range of natural tones and painted finishes. We even offer a colour matching service if you are seeking an entirely bespoke investment for your home in Bermondsey. Plantation shutters are now one of the most sought after products for UK homes regardless of property style. We think they look as stunning in a period home as they do in a modern build.
You Can Have Shutters In Your Home In Bermondsey In 8 Weeks
Call us today using our free phone number and request a home survey. Alternatively, complete the online request form and let us know a date and time that is suitable for you. One of our local surveyors from Bermondsey will visit you at home, measure your windows and guide you through the practical and aesthetic decisions. We will provide you with a personalised written quotation during this visit allowing you to the space and time to consider your installation fully. However if you're in a hurry for your shutters then we can begin to process your order straight away. In the meantime, please order a copy of our free colour brochure, showcasing our full collection of interior shutters in a variety of inspiring finishes. All available in Bermondsey and surrounding areas today!