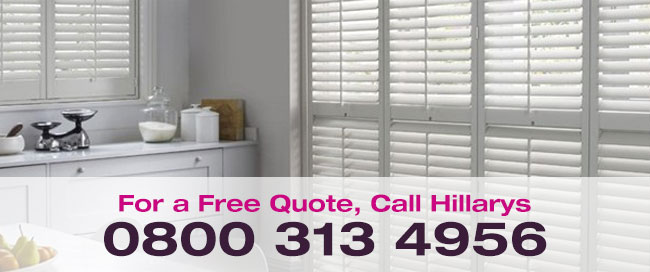 Shutters For Local Homes In The Camberwell Area
We have been proudly supplying interior wooden shutters to local homes in the Camberwell area for over 2 decades. During this time, Window shutters Direct have expertly measured and installed in thousands of local homes in the Camberwell area. Our surveyors and fitters have been described as 'professional from the outset and extremely knowledgeable' as well as 'expert tradesmen and so helpful'. On the topic of our gorgeous products, delighted customers have told us 'we can't stop looking at them and testing out different tilts' and 'the quality is inspiring… they are a pleasure to operate'. Viewed by many as a chic alternative to window dressing, it should come as no surprise to learn that wooden shutters can add value to your home in exactly the same way that a major home improvement such a new kitchen or bathroom does but with virtually no fuss.
Browse Full Hillarys Range
Arrange Free Home Survey
Interior Shutters That We Offer In Camberwell Are Made-to-Measure
Our entire range of interior shutters that we offer in Camberwell are made-to-measure, providing you with a unique and stylish window dressing. From the moment you call our free phone number in Camberwell or complete the online home survey request, we will ensure that your experience is pleasurable and personalised. We will carry out a free, no-obligation home survey where one of our experienced local surveyors in Camberwell will take time to measure and quote to your specifications, offering practical guidance at every stage. We can demonstrate each of the plantation shutters and discuss your individual requirements, helping to answer any questions that you may have. Once your decisions have been finalised, your order can be manufactured and professionally fitted, giving each window a total transformation.
Plantation Shutters Expertly Shut Out Extreme Temperatures And Noise
If you thought that internal shutters appeared only in boutique hotels, think again. Internal plantation shutters have become one of the most desirable products for UK homes, appealing to those looking for fresh solutions to window dressing. Whether your windows are in a period-style property or ultra-modern apartment, the addition of shutters will not only give your room a huge dose of style internally but also deliver your property some real curb appeal. One of the biggest selling points is that they provide absolute control over light and privacy; meaning that you don't have to compromise on either. As the name may suggest, plantation shutters expertly shut out extreme temperatures and noise; ensuring that your home is comfortable and peaceful on the inside. All styles are available in a range of natural wood tones and painted finishes in Camberwell. We even offer a colour-matching service that guarantees a totally unique finish. Either option would allow you to find a harmonious colour match for your shutters or to create a bold statement piece.
Any Questions About Shutters In Camberwell, Just Ask...
If you have any questions or comments about plantation shutters in Camberwell, we would love to hear from you. Why not call us on our free phone number? Or complete the online home survey request form? Our expert surveyor from Camberwell will be in touch to organise a home visit at a time that is convenient to you. One thing you wont receive from us is the hard sell. We are more than happy to let our gorgeous collection of wooden shutter samples do the talking. You will receive a written quotation right there and then so if you're raring to go then so are we! In the meantime, be sure to request our free colour brochure that is bursting with inspiration for all your shutter needs in Camberwell.