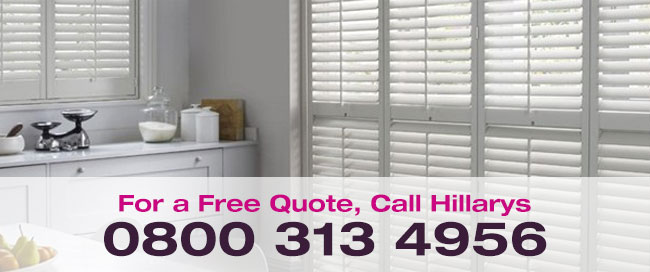 Interior Wooden Shutters In Wimbledon
Window Shutters Direct have been expertly measuring and installing interior wooden shutters in Wimbledon and the local area for over 20 years. Our inspiring range features something to suit each individual taste and budget. Interior plantation shutters are now one of the most desirable products for UK homes, appealing to those searching for an up-to-date approach to their window dressings. We offer a bespoke service in the Wimbledon area which begins with a free home survey and no-obligation quotation right through to a skilful installation that is guaranteed to provide stunning results. Our made-to-measure range can be made to fit virtually any window shape, including bays, arched and even circular. We manufacture in a variety of woods, including waterproof options for high humidity areas such as bathrooms and wet rooms.
Browse Full Hillarys Range
Arrange Free Home Survey
Bespoke Window Shutters Service
Our comprehensive and bespoke service starts with a free home survey that you can request by calling our free phone number or by completing the on-line home survey request form. Our knowledgeable surveyor will offer impartial advice to help you achieve the best option for your home in Wimbledon at a price that's right for you. There's no pushy sales pitch as we are happy to let our gorgeous wooden shutters do the talking! You will be shown a full range of styles, finishes and fittings that will inspire you. We will then measure your windows to ensure a perfect fit and provide you with a no-obligation written quotation. When you are ready to place your order we will begin the manufacturing process and prepare for the installation of your desirable wooden shutters.

Our Products Are fully Guaranteed
Interior shutters have become one of the most desirable products for UK homes. No longer the preserve of high-end spa retreats they offer a fresh solution to window dressings that is simple yet stylish. Unlike many curtains and blinds, plantation shutters will do a fantastic job of enhancing the window and not simply covering it up. They are functional in design with no fussy trimmings that can get caught in the vacuum, chewed by the pet or unravelled by the children. There's nothing to take to the drycleaners and nothing to re-hang every few months; saving you time and money. Once installed our products are fully guaranteed which means all you need to do is a bit of light dusting. Window Shutters Direct offer natural wood tones and painted finishes including our bespoke service in Wimbledon that allows us to match any paint sample. Timeless and versatile in design, your shutters will look great for many years. To revamp a room further down the line you will simply require a furniture rejig or some new soft furnishings.

Call Us Today In Wimbledon By Dialling Our Free Phone Number
For further information on our range of bespoke shutters in Wimbledon call us today by dialling our free phone number. Alternatively, complete the online home survey form and let us know a time that is convenient for our surveyor to visit your property. Enjoy the superior quality of our shutter samples and immerse yourself in the warm wooden tones and classic paint finishes. You can receive multiple personalised quotes on the spot, allowing you to select your own budget. In the meantime, we would love to send you our free colour brochure that showcases our extensive collection of interior shutters. Please let us know if you would like us to bag you a copy. Our professional surveyors are in the Wimbledon area, all day, every day!