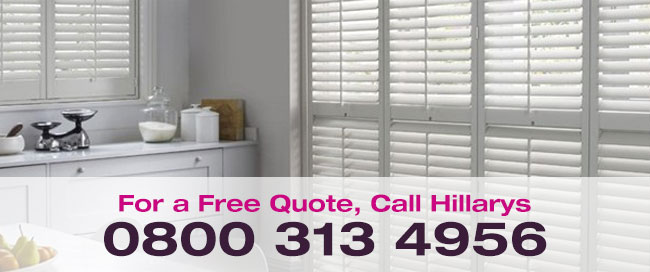 Plantation Shutters In Morden
Our specialist team have expertly measured, supplied and fitted internal plantation shutters in Morden for over 20 years. During this time we have offered a bespoke service ensuring that each and every window is dressed in a practical and timeless fashion; reflecting the lifestyle of our client. We offer many styles including: full height, tier-on-tier, tracked, café style, shaped and solid which come in a selection of woods including waterproof solutions, ideal for a kitchen or bathroom. Our experts in Morden are on hand to offer practical guidance during a free home survey and provide you with a no-obligation quote. Our interior shutters offer a fresh approach to window adornment that can blend effortlessly into an existing room or create a statement piece for a newly formed living area. Whatever you decide, you can guarantee a quality investment for your home in Morden.
Browse Full Hillarys Range
Arrange Free Home Survey
Wooden Plantation Shutters In Morden
Behind our extensive range of wooden plantation shutters is a bespoke company that will support your initial enquiry and guide you through to expert fitting in your home and beyond. From the moment you call us on our free-phone number or complete our on-line home survey request in Morden, we are here to support you through the key decision making process. If you are looking for inspiration, our highly skilled surveyor will have a number of product samples to show you. Maybe you would like to see the many different louvre sizes that we manufacture? Or perhaps you are interested in seeing which of our warm wood tones is right for your home? Your free home survey is the ideal time to ask any questions that you may have. Would you like a couple of written quotations so that you may consider both options before finalising your order? Just ask! This is an ideal way to achieve the interior shutters you dream of at a price that you can afford.

Shutters In Morden Are All The Fashion
Wooden shutters have become one of the UK's most desirable interior items. Many homeowners in Morden are now looking for a versatile window dressing that is both simple in design and easy to maintain while offering complete control over light and privacy. Once seen as the preserve of luxury holiday-lets, plantation shutters offer a stylish solution to windows in any style of property. They do a fantastic job of blocking out extreme temperatures and noise, maintaining the comfort and serenity of your home whatever the conditions outside. Our entire range can be crafted in a range of natural wood tones and painted finishes including our bespoke service that allows us to match any paint to a leading brand. Maybe you like the idea of matching your shutters to your emulsion or woodwork? Or perhaps you are looking for your window dressing to become a bold statement piece in a contrasting colour. Whatever your tastes, you are guaranteed a totally unique end product.
Customers In Morden Have Said...
Customers have told us 'we have no idea why we waited to install our wooden shutters, we should have done it years ago!' and 'I didn't realise how affordable they could be, I was almost too scared to get a quote!'. If you have any questions about our comprehensive service or queries relating to any of our products, we would love to hear from you. Call us directly on our free phone number and speak with a member of our team in Morden. Alternatively you can complete the online home survey request form so that a visit to your property in Mordencan be arranged. Once our experienced surveyor from Morden has measured each window we can provide you with a no obligation quote. Simply take the time to consider your options or let us know that you would like to proceed with your order straight away. In the meantime, please request a copy of our stunning colour brochure that features our entire range of interior shutters available in the Morden area today!.