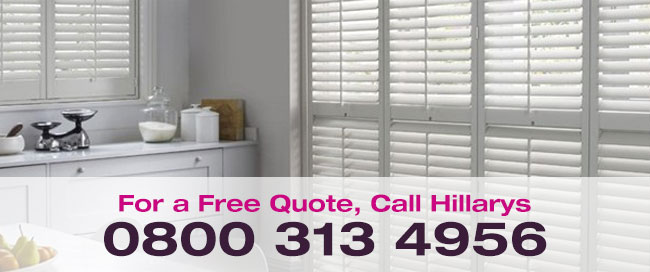 Plantation Shutters In The Collier's Wood Area For Over 20 Years
Window Shutters Direct has pioneered plantation shutters in the Collier's Wood area for over 20 years by expertly measuring and installing in many local properties. Recent interest has soared, as interior shutters have become a hugely desirable interior product within UK homes. Most of our Collier's Wood clients are looking for an elegant window dressing that delivers on light and temperature control, privacy, easy maintenance, practicality and most importantly style. Our expertise within this field enables us to offer practical guidance and support when deciding on design, function and finish. From the very beginning, our bespoke service in Collier's Wood ensures that each window is adorned with a made-to-measure shutter which is just as stunning on the inside as it is from the outside; offering real curb appeal to any property.

Browse Full Hillarys Range
Arrange Free Home Survey
Made-to-measure Shutters
Our interior shutter company, Window Shutters Direct, is entirely made-to-measure. From the minute you call us on our free phone number or complete the home survey request you will receive the bespoke service that you deserve in your Collier's Wood area. Each and every plantation shutter that we supply is custom-made and designed entirely around you and your home. After measuring we embark on a design consultation where we aim to unearth important factors such as: how much light you want in the room or the degree of privacy that you desire. It could be that you have done your homework, created a mood board and you simply want to obtain a written quote, in which case that's great! Alternatively, you may be yearning for some inspiration and that is precisely when our surveyor can impart their wealth of practical and experience.
Interior Shutters Are Simple Yet Sophisticated
Many homeowners in Collier's Wood who are looking to install interior shutters are initially drawn to their style; simple, neat and sophisticated. They then discover that plantation shutters offer a whole host of selling points making them virtually impossible to resist. Imagine having full control over light and privacy without compromising on either and the option of blocking out extreme temperatures and noise. In addition to this they are easy to maintain, will enhance any size of window and offer a timeless appeal to any style of property. Perhaps the only tricky part comes when choosing between the many wooden tones and painted finishes that we offer and ultimately deciding whether to blend with an existing décor or walk on the wild side with a statement piece. Either way, your window will be eternally grateful.
What Customers In Collier's Wood Have Said...
Customers in Collier's Wood have told us 'we have no idea why we didn't install our shutters sooner' and 'I thought it would be out of my league price wise, so I was pleasantly surprised'. If you have any queries about our comprehensive service or questions relating to any of our products, we would love to hear from you. Call us directly in Collier's Wood on our free phone number and speak with a member of our team. Alternatively you can complete the online home survey request form so that a visit to your property in Collier's Wood can be arranged. Once our experienced surveyor has measured each window we can provide you with a no obligation quote. Simply take the time to consider your options or let us know that you would like to proceed with your order straight away. In the meantime, please request a copy of our stunning colour brochure.