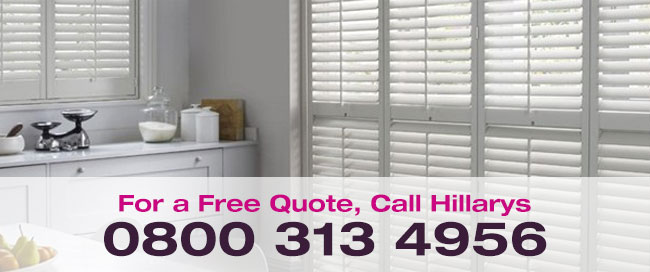 Shutters In West Barnes
Over the last 20 years, our company has measured, supplied and fitted interior wooden shutters to the local homes of West Barnes. During this time we have gathered hundreds of testimonials from ecstatic clients who are thrilled with their new window dressings. 'Why didn't we have them installed sooner?' and 'I can't believe how much neater and brighter my room looks now' are popular cries. Our comprehensive service offers a free home survey and no-obligation written quotation through to expert installation in your home. Each shutter is custom-made and guaranteed to fit most window styles including bays, arches, circular and triangle shapes. Our range includes options for every room of your West Barnes home including waterproof solutions for high humidity rooms such as bathrooms and wet-rooms.
Browse Full Hillarys Range
Arrange Free Home Survey
Interior Shutters That We Offer In West Barnes Are Made-to-Measure
Our entire range of interior shutters that we offer in West Barnes are made-to-measure, providing you with a unique and stylish window dressing. From the moment you call our free phone number in West Barnes or complete the online home survey request, we will ensure that your experience is pleasurable and personalised. We will carry out a free, no-obligation home survey where one of our experienced local surveyors in West Barnes will take time to measure and quote to your specifications, offering practical guidance at every stage. We can demonstrate each of the plantation shutters and discuss your individual requirements, helping to answer any questions that you may have. Once your decisions have been finalised, your order can be manufactured and professionally fitted, giving each window a total transformation.
Window Shutters Are The UK's Most Desirable Interior Items
Internal shutters have become one of the UK's most desirable interior items. Clients are now looking for a versatile window dressing that is simple in design, easy to maintain while offering light-control and privacy. Once seen as the preserve of chic and exotic getaways, plantation shutters now offer a stylish solution for windows in any style of property. Our shutters do a fantastic job of blocking out extreme temperatures and noise, maintaining the comfort and tranquillity of your home. Our entire range can be crafted in a variety of woods to suit most budgets. We offer natural wood tones and painted finishes including our bespoke service in West Barnes that allows us to match any paint. Perhaps you like the idea of matching your shutters to your emulsion or woodwork? Or maybe you are looking for your window dressing to become the focal point of your room by selecting a contrasting shade? The possibilities are endless.

Interested In Shutters For Your Home In West Barnes ?
If you are inspired to find out more about interior wooden shutters in West Barnes then contact us today. You can dial our free phone number or complete the online home survey request form and let us know a suitable date and time for your home visit. One thing we wont give you is the hard sell; we simply let our beautiful bespoke range of samples do the talking. Of course we're passionate about what we do but our advice will remain impartial and honest. Why not order a copy of our free colour brochure to be delivered to you in West Barnes today? It showcases our full range of plantation shutters in natural wood tones and painted finishes. We're pretty sure there is something for every taste.