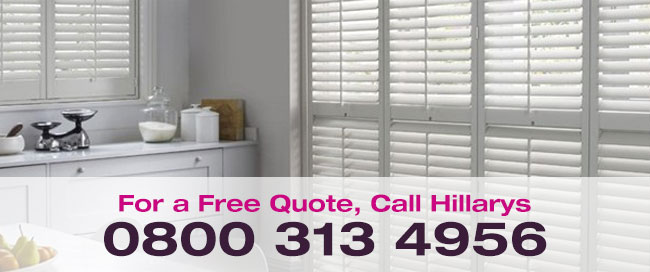 Beautiful Wooden Shutters In And Around Llandrillo-yn-Rhôs.
Celebrating over 20 years in the business, we proudly measure and install beautiful wooden shutters in and around Llandrillo-yn-Rhôs. Our inspirational range of bespoke shutters offers a perfect solution for any window in the home including bays, arches and shaped. We even offer a waterproof option, transforming the windows in high humidity areas such as bathrooms and even wet-rooms. Our products are crafted using a varied palette of warm wood tones or painted in classic interior shades. Alternatively, if you have a particular shade in mind, we can even offer a colour matching service in the Llandrillo-yn-Rhôs area. Our clients tell us that they love the light control, insulation, privacy and wow factor that their shutters have provided and how none of them miss their old curtains and blinds!

Browse Full Hillarys Range
Arrange Free Home Survey
Interior Wooden Shutters
Every single interior wooden shutter that we produce is made-to-measure. This way, we guarantee a great fit and expert installation while offering practical advice at each turn. By calling our free phone number or completing the online home survey request form, you are put in touch with one of our highly skilled local surveyors in Llandrillo-yn-Rhôs who will come and measure your windows and offer impartial advice to help you get the best option for your home at a price you can afford. You will be shown our inspirational range of plantation shutters in an array of warm wood tones and stunning shades. Why not talk to our surveyor about our colour-matching service? We can create a match to any paint sample by many of the leading, high-end brands, making your finished product undeniably unique.

Plantation Shutters Are Now Seen As A fresh Alternative To Window Dressing
If you thought that wooden shutters only appeared in glossy interior magazines and exotic travel guides, think again. Plantation shutters are now seen as a fresh alternative to window dressing and as such have become one of the most desirable interior products for UK homes. They are effortlessly chic and their timeless quality will ensure that they look great for many years to come in your Llandrillo-yn-Rhôs home. Unlike most curtains and blinds, they offer total control over light and privacy so you wont have to compromise on either. Extreme temperatures and noises will be blocked out ensuring that your room maintains its comfort and tranquillity whatever the conditions outside. Over the years clients have told us 'I don't miss my old curtains one bit; they were heavy and drab and a real pain to clean'. Neat and easy to maintain, it is little wonder that our gorgeous range of bespoke products are taking the interiors world by storm.
What Customers In Llandrillo-yn-Rhôs Have Said...
Customers in Llandrillo-yn-Rhôs have told us 'we have no idea why we didn't install our shutters sooner' and 'I thought it would be out of my league price wise, so I was pleasantly surprised'. If you have any queries about our comprehensive service or questions relating to any of our products, we would love to hear from you. Call us directly in Llandrillo-yn-Rhôs on our free phone number and speak with a member of our team. Alternatively you can complete the online home survey request form so that a visit to your property in Llandrillo-yn-Rhôs can be arranged. Once our experienced surveyor has measured each window we can provide you with a no obligation quote. Simply take the time to consider your options or let us know that you would like to proceed with your order straight away. In the meantime, please request a copy of our stunning colour brochure.