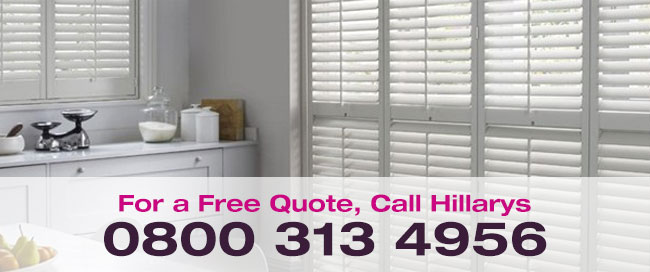 Experienced Shutters Company In Currie
Window Shutters Direct experienced team has measured, supplied and fitted gorgeous window shutters to many homes in the Currie area. We offer a made-to-measure service that begins with a free home survey and finishes with a highly skilled installation in your home. For over 20 years, we have adorned even the most unusual of windows in a variety of homes in the Currie area, from rustic cottages through to sleek, modern apartments. Such is the versatility of plantation shutters that they enhance any room irrespective of its style or function. Many clients are pleasantly surprised to discover a waterproof option within our range, meaning that kitchens, bathrooms and wet-rooms can also receive a transformation. With so many decisions to make, you can guarantee our continued support throughout this exciting process.
Browse Full Hillarys Range
Arrange Free Home Survey
Affordable Bespoke Shutters
The wooden shutters we offer in Currie are totally custom-made, providing you with a versatile and fuss-free window dressing. From the moment you call our free phone number or complete the online home survey request, we will ensure that your experience is pleasurable and unique to you. We will carry out a free, no-obligation home survey where one of our experienced local surveyors can take time to measure and quote to your specifications, offering practical guidance at every stage. Our expert surveyor can demonstrate each of the plantation shutters and discuss your individual requirements, helping to answer the many questions you may have. Once your decisions have been finalised, your bespoke shutters will then be manufactured and professionally fitted, giving each window a desirable and striking finish.
A Window Dressing That Is Versatile and Simple
Wooden plantation shutters have become one of the UK's most desirable household items. Customers in Currie are not only looking for a window dressing that is versatile and simple in design but also one that offers complete light-control and privacy. Once seen as the preserve of chic rural homes, interior shutters now offer a stylish solution to every window and look as comfortable in a period style property as they do in sleek, modern apartments. Our products do a fantastic job of shutting out extreme temperatures and noise, maintaining the comfort and tranquillity of your home. We offer natural wood tones and painted finishes including our bespoke service that allows us to match any paint. Maybe you like the idea of blending your shutters to your emulsion or woodwork? Or perhaps you are looking for your window dressing to become the focal point of your room by selecting a contrasting shade? The possibilities are endless.

We would love to hear from you in Currie...
If you have any thoughts or questions about interior shutters, we would love to hear from you. Why not call us on our free phone number? Or complete the online home survey request form? Our expert surveyor form Currie will be in touch to organise a home visit at a time that is convenient to you. One thing you wont receive from us is the hard sell. We are more than content to let our gorgeous collection of plantation shutter samples do the talking. You will receive a written quotation right there and then so if you're raring to go then so are we! In the meantime, be sure to request our free colour brochure that is bursting with inspiration for your Currie home.