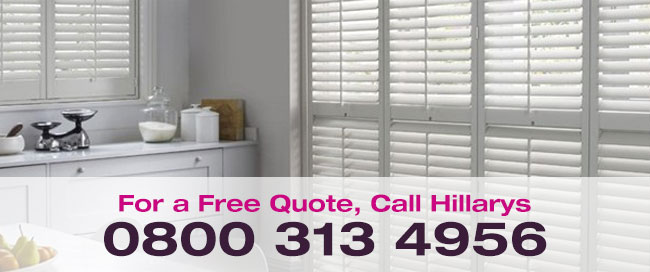 Wooden shutters In Castlereagh
We offer an inspirational range of wooden shutters in the area of Castlereagh that can be custom-made to fit your windows beautifully. Our bespoke service can be made to dress even the most unusual of window including bays, arched and circular that will be sure to guarantee a wow factor in any style of property. Whether you are looking to dress a singular window or revamp your entire home in Castlereagh, our extensive range includes options for every room, including waterproof solutions that are ideal for kitchens, bathrooms and even wet-rooms. From the free no-obligation home survey through to expert installation in your home in the Castlereagh area, we have over 20 years of expertise to help you get the product that's right for you.
Browse Full Hillarys Range
Arrange Free Home Survey
Bespoke Wooden Shutter Company In Castlereagh
Window Shutters Direct are extremely proud of our bespoke wooden shutter company that delivers a comprehensive service from start to finish. From the moment you call us in Castlereagh on our free phone number or complete the home survey request you will receive a personalised package that has become our trademark. Each one of our plantation shutters that we supply is custom-made and designed entirely around you and your home. After measuring we will begin asking questions about how much light you want in the room or the degree of privacy that you desire. It could be that you have done piles of research, created a mood board and you simply want to obtain a written quote, in which case that's great! Alternatively, you may be yearning for some inspiration and practical support in which case our Castlereagh surveyor is best placed to answer the many questions that you may have.

Interior Shutters Are Simple Yet Sophisticated
Many homeowners in Castlereagh who are looking to install interior shutters are initially drawn to their style; simple, neat and sophisticated. They then discover that plantation shutters offer a whole host of selling points making them virtually impossible to resist. Imagine having full control over light and privacy without compromising on either and the option of blocking out extreme temperatures and noise. In addition to this they are easy to maintain, will enhance any size of window and offer a timeless appeal to any style of property. Perhaps the only tricky part comes when choosing between the many wooden tones and painted finishes that we offer and ultimately deciding whether to blend with an existing décor or walk on the wild side with a statement piece. Either way, your window will be eternally grateful.
Shutters Look Fantastic In A Castlereagh Home
If you think that interior shutters would be a fabulous addition to your Castlereagh home then we would love to hear from you. Call us today by dialling our free phone number or alternatively complete the online home survey request form. It really is that simple. Our expert surveyor form Castlereagh will be in touch to organise a home visit at a time that is convenient to you. One thing you wont receive from us is the hard sell. We are more than content to let our gorgeous collection of bespoke shutter samples do the talking. We will prepare a written quotation for you right there and then so if you're really keen to get the ball moving, we can process your order immediately. Meanwhile, please request a copy of our free colour brochure that is guaranteed to quicken your pulse. Our experienced surveyors are working in Castlereagh today, so give us a call!